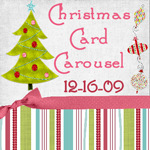 I love getting Christmas cards and can't wait to get a glimpse of all of the great cards linked up today! I love getting good ideas. But more than a good idea, I LOVE a good deal...

Here is our 2009 card...

if you haven't gotten it...it should be there soon....sorry for the spoiler!

I am a Vista Print junkie! It is amazing the deals you can get... they try to suck you in on other things, but if you stick to your plan, you can get out paying pennies.

Any traditions with cards?
I saw on the holiday parade of homes many people do a Christmas Card Tree and hang all the cards like ornaments. What a great idea if you have the room and an extra tree!

My children have loved opening the cards this year and placing them in our card holder.


In years passed, we have gone through the stack and prayed for the families at dinner. We haven't this year yet...probably due the chaotic nature of dinner time with 3 little llamas. But, I think we will have to give it a shot tonight!


God is SO faithful and Christmas Cards are a great reminder to me of all He has done and continues to do.

Merry Christmas!